In June and July 2017 the York Circuit will be taking part in the national Bible Month initiative.
In churches, preaching at services on 18th & 25th June and 2nd & 9th July will be based on the book of James. Focusing on one book will help us to look at it in greater depth.
We'll also be encouraging people to take part in Bible Month in small groups, both existing groups and new ones that will be set up. Growing strong small groups is a circuit priority linked to our Vision and we hope this will encourage more people to be part of a group.
As a circuit, we will be joining together on Sunday 16th July at Central Methodist Church from 2pm- 5.30pm to celebrate what we have learned and think about how to put this into practice in our lives. We will also take this opportunity to look back at the last year of circuit life and ahead to plans for the future. As part of this we'll be making time to say goodbye to staff who are leaving. We hope the day will have something for all ages, and will be arranging a creche for our youngest members and a welcoming space for those who need a bit of help to get around.
We hope you'll want to be involved, whether you are a preacher, group leader or just interested in learning more about the Bible and how it applies to our lives. Download the resources available on this page and watch out for more information coming soon!
You can view and download the Bible Month magazine here.
Other stories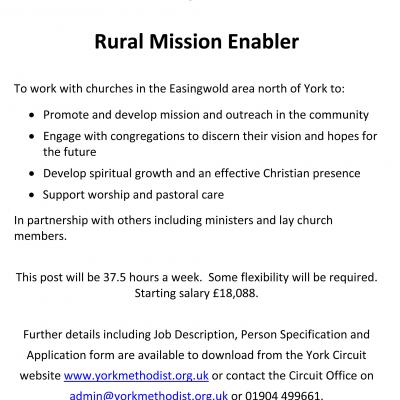 York Circuit Webteam: 09/06/2017
York Methodist Circuit are looking for a Rural Mission Enabler to work with churches in the Easingwold area to: Promote and develop mission and outreach in the community Engage with congregations to discern their vision and...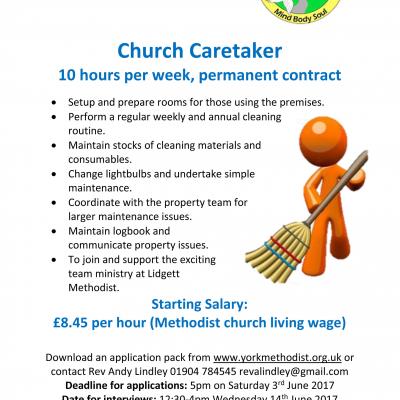 York Circuit Webteam: 19/05/2017
Two roles- an administrator and a caretaker- are available at Lidgett Methodist Church- see the downloads for details. Completed applications should be sent to Revd Andy Lindley, 12 Vesper Drive, Acomb, York, YO24 3HT by 5pm on...
Rural Mission Enabler wanted!
York Circuit Webteam, published 9th Jun
Jobs at Lidgett Methodist Church
York Circuit Webteam, published 19th May
Bible Month Group Resources
York Circuit Webteam, published 10th May

Word file

Word file

Word file

Bible Month- FaithWorks
Today

Bible Month- FaithWorks
Tomorrow

Bible Month- FaithWorks
28th June 2017