Pastoral Missioner wanted!
York Circuit Webteam

:

18th January 2017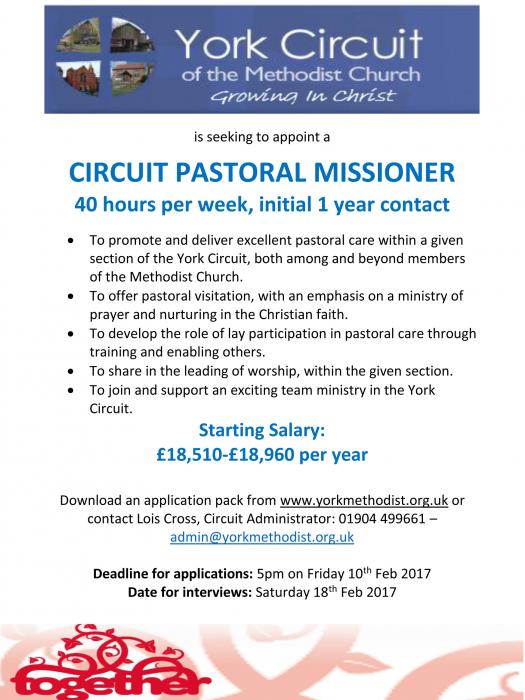 Application Pack Pastoral Mission
Word file

Application Form Pastoral Mission
Word file

Equality monitoring
Word file
York Circuit of the Methodist Church is seeking to appoint a
CIRCUIT PASTORAL MISSIONER
40 hours per week, initial 1 year contact
To promote and deliver excellent pastoral care within a given section of the York Circuit, both among and beyond members of the Methodist Church.
To offer pastoral visitation, with an emphasis on a ministry of prayer and nurturing in the Christian faith.
To develop the role of lay participation in pastoral care through training and enabling others.
To share in the leading of worship, within the given section.
To join and support an exciting team ministry in the York Circuit.
Starting Salary: £18,510-£18,960 per year
Download an application pack from this page or contact Lois Cross, Circuit Administrator: 01904 499661 — admin@yorkmethodist.org.uk
Deadline for applications: 5pm on Friday 10th Feb 2017
Date for interviews: Saturday 18th Feb 2017
Other stories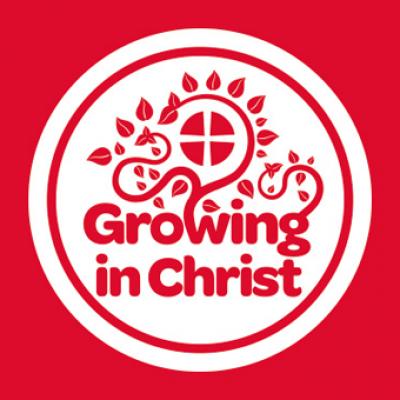 York Circuit Webteam: 06/04/2017
We've recently freshened up our logo to reflect our Circuit Vision. The new version includes our strapline "Growing in Christ" with a vine or tree...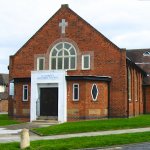 York Circuit Webteam: 06/04/2017
Cornerstone Church is the new name for the building that was formerly St George's Methodist Church in Tang Hall, and for a new worshiping community that is taking shape here. A team of people drawn from around the circuit...
Have you seen our new logo?
York Circuit Webteam, published 6th Apr
Cornerstone Church
York Circuit Webteam, published 6th Apr
FaithWorks
York Circuit Webteam, published 9th Feb
PDF file
PDF file
PDF file

Godly Play
Today
Lidgett — Three Day Accredited Godly Play training course -- Wed 26th -- Fri 28th April 2017
Lidgett Methodist Church, Wheatlands Grove, York YO26 5NH
This certificated course is being led by accredited members of the College of Trainers of Godly Play UK. Over 3 days (minimum 25 hours training) this training develops your ability to use Godly Play methods and understand its principles. The training follows an action/reflection model of learning -- learning through hands-on experience and reflection rather than lectures. There is a mixture of trainer-led sessions, and opportunities for coached participant storytelling presentations. We work in a model Godly Play environment, with the opportunity to use and see a comprehensive set of resources. Each day focuses on different kinds of Godly Play (sacred stories, parables and liturgical action/Church practice) so you will learn how different genres of Christian language can support spiritual exploration. Workshops in the core module also cover: Setting up a Godly Play Environment, the Spirituality of Childhood, your particular concerns and questions.
Godly Play story telling techniques are being used in more and more settings and situations from churches to schools and care homes so the course is open to anyone who wishes to attend.
The cost is £295 per person which includes a detailed training handbook, lunch each day as well as refreshments in coffee/tea breaks.
The course runs from 8.30am each morning and finishes on the first and second day at 6.30pm and the final day at 5.00pm.
Bookings need to made through Godly Play UK and you can find out more and download an application form via their website:
http://www.godlyplay.uk/2016/11/18/acomb-york-3-day-accredited-training-course/

Godly Play
Tomorrow
Lidgett — Three Day Accredited Godly Play training course -- Wed 26th -- Fri 28th April 2017
Lidgett Methodist Church, Wheatlands Grove, York YO26 5NH
This certificated course is being led by accredited members of the College of Trainers of Godly Play UK. Over 3 days (minimum 25 hours training) this training develops your ability to use Godly Play methods and understand its principles. The training follows an action/reflection model of learning -- learning through hands-on experience and reflection rather than lectures. There is a mixture of trainer-led sessions, and opportunities for coached participant storytelling presentations. We work in a model Godly Play environment, with the opportunity to use and see a comprehensive set of resources. Each day focuses on different kinds of Godly Play (sacred stories, parables and liturgical action/Church practice) so you will learn how different genres of Christian language can support spiritual exploration. Workshops in the core module also cover: Setting up a Godly Play Environment, the Spirituality of Childhood, your particular concerns and questions.
Godly Play story telling techniques are being used in more and more settings and situations from churches to schools and care homes so the course is open to anyone who wishes to attend.
The cost is £295 per person which includes a detailed training handbook, lunch each day as well as refreshments in coffee/tea breaks.
The course runs from 8.30am each morning and finishes on the first and second day at 6.30pm and the final day at 5.00pm.
Bookings need to made through Godly Play UK and you can find out more and download an application form via their website:
http://www.godlyplay.uk/2016/11/18/acomb-york-3-day-accredited-training-course/

Godly Play
28th April 2017
Lidgett — Three Day Accredited Godly Play training course -- Wed 26th -- Fri 28th April 2017
Lidgett Methodist Church, Wheatlands Grove, York YO26 5NH
This certificated course is being led by accredited members of the College of Trainers of Godly Play UK. Over 3 days (minimum 25 hours training) this training develops your ability to use Godly Play methods and understand its principles. The training follows an action/reflection model of learning -- learning through hands-on experience and reflection rather than lectures. There is a mixture of trainer-led sessions, and opportunities for coached participant storytelling presentations. We work in a model Godly Play environment, with the opportunity to use and see a comprehensive set of resources. Each day focuses on different kinds of Godly Play (sacred stories, parables and liturgical action/Church practice) so you will learn how different genres of Christian language can support spiritual exploration. Workshops in the core module also cover: Setting up a Godly Play Environment, the Spirituality of Childhood, your particular concerns and questions.
Godly Play story telling techniques are being used in more and more settings and situations from churches to schools and care homes so the course is open to anyone who wishes to attend.
The cost is £295 per person which includes a detailed training handbook, lunch each day as well as refreshments in coffee/tea breaks.
The course runs from 8.30am each morning and finishes on the first and second day at 6.30pm and the final day at 5.00pm.
Bookings need to made through Godly Play UK and you can find out more and download an application form via their website:
http://www.godlyplay.uk/2016/11/18/acomb-york-3-day-accredited-training-course/