Pastoral Missioner wanted!
York Circuit Webteam

:

18th January 2017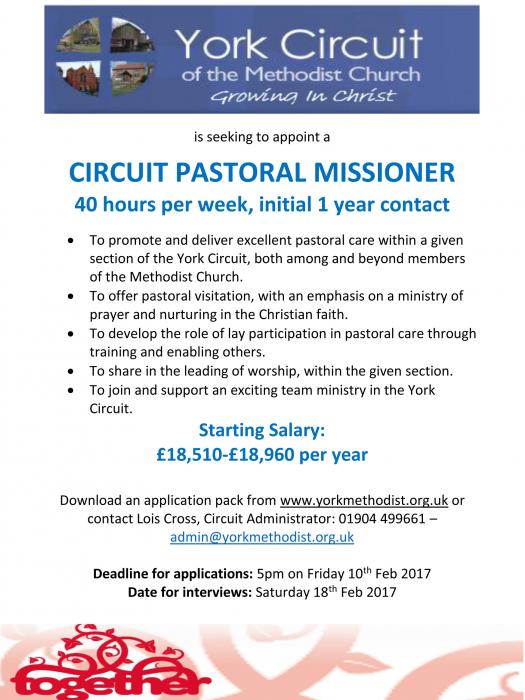 Application Pack Pastoral Mission
Word file

Application Form Pastoral Mission
Word file

Equality monitoring
Word file
York Circuit of the Methodist Church is seeking to appoint a
CIRCUIT PASTORAL MISSIONER
40 hours per week, initial 1 year contact
To promote and deliver excellent pastoral care within a given section of the York Circuit, both among and beyond members of the Methodist Church.
To offer pastoral visitation, with an emphasis on a ministry of prayer and nurturing in the Christian faith.
To develop the role of lay participation in pastoral care through training and enabling others.
To share in the leading of worship, within the given section.
To join and support an exciting team ministry in the York Circuit.
Starting Salary: £18,510-£18,960 per year
Download an application pack from this page or contact Lois Cross, Circuit Administrator: 01904 499661 — admin@yorkmethodist.org.uk
Deadline for applications: 5pm on Friday 10th Feb 2017
Date for interviews: Saturday 18th Feb 2017
Other stories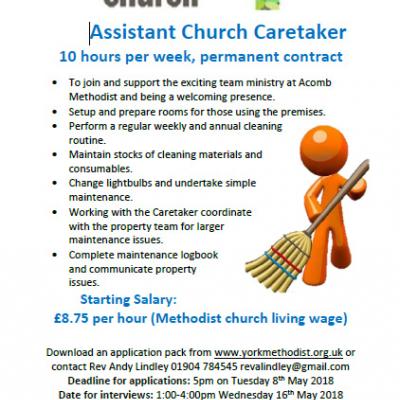 York Circuit Webteam: 19/04/2018
Assistant Church Caretaker10 hours per week, permanent contract To join and support the exciting team ministry at Acomb Methodist and being a welcoming presence. Setup and prepare rooms for those using the premises....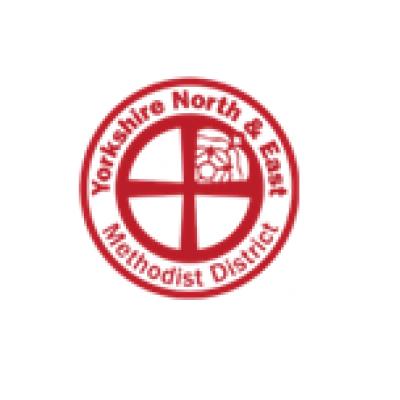 York Circuit Webteam: 26/02/2018
The Methodist Church Yorkshire North and East District is seeking to appoint aDistrict Youth Administrator7 hours per week, permanent contractTo work with the District Youth team in promoting, administering and...