President's Easter Message
York Circuit Webteam

:

24th March 2016
The President and Vice President of the Methodist Church have released Easter messages, reminding people of the Easter message of hope, passion and joy in the midst of despair.
Vice President Dr Jill Barber said: "This Easter we share Christ's tears for our world in all its pain. For children drowned fleeing from the unimaginable horrors of war. For unaccompanied children in the jungle at Calais."
"The Easter message is one of ... life from death, love stronger than hate. At the moment of utter darkness, the light of the risen Christ breaks through."
The Revd Steven Wild, President, added: "This Easter, with joy and love, may we all cry Hallelujah and encounter the risen Lord."
You can read more and listen to the Presidents' Easter message on the Methodist website.
Other stories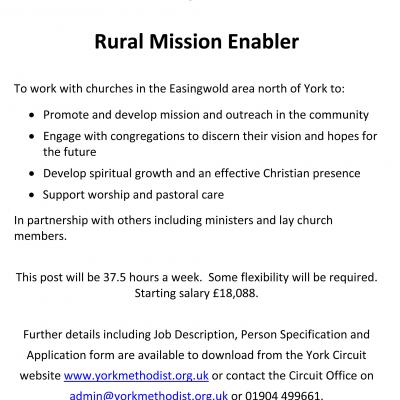 York Circuit Webteam: 09/06/2017
York Methodist Circuit are looking for a Rural Mission Enabler to work with churches in the Easingwold area to: Promote and develop mission and outreach in the community Engage with congregations to discern their vision and...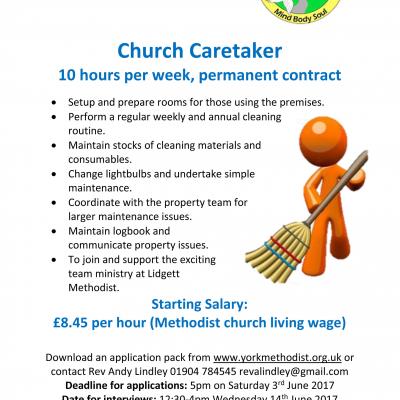 York Circuit Webteam: 19/05/2017
Two roles- an administrator and a caretaker- are available at Lidgett Methodist Church- see the downloads for details. Completed applications should be sent to Revd Andy Lindley, 12 Vesper Drive, Acomb, York, YO24 3HT by 5pm on...
Rural Mission Enabler wanted!
York Circuit Webteam, published 9th Jun
Jobs at Lidgett Methodist Church
York Circuit Webteam, published 19th May
Bible Month Group Resources
York Circuit Webteam, published 10th May

Word file

Word file

Word file

Bible Month- FaithWorks
Today

Bible Month- FaithWorks
Tomorrow

Bible Month- FaithWorks
28th June 2017