Bookings for our Celebration event at York Barbican on 10th July 2016 are now open! Called Together, this is going to be a really great opportunity to worship with others from around the circuit and beyond, and to listen to great speakers like Revd Steve Wild and Rachel Lampard. Young people and children will have their own sessions before joining together with the adults for an all age celebration!
You can find out more at the Together web page, download the attached leaflet (which will be available in churches soon) or watch the video.
To book, you can talk to your church's Together enthusiast (look out for posters with their name on at church) or contact the Circuit Office for a booking form (you can also download it from this page) and return the form to the Circuit office.
Don't miss out- it's going to be a great day!
Other stories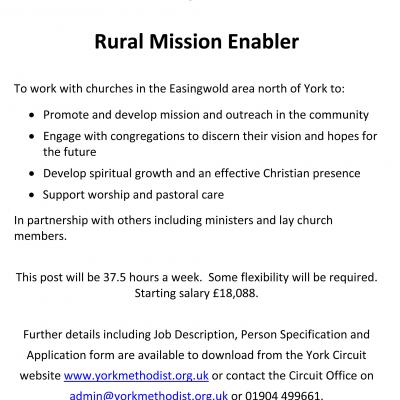 York Circuit Webteam: 09/06/2017
York Methodist Circuit are looking for a Rural Mission Enabler to work with churches in the Easingwold area to: Promote and develop mission and outreach in the community Engage with congregations to discern their vision and...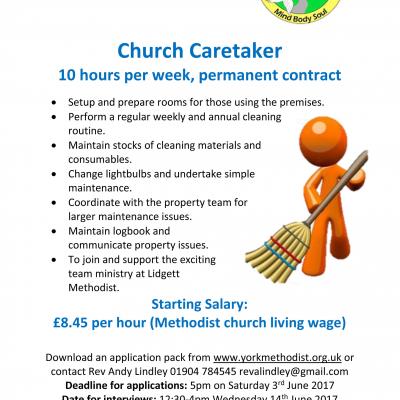 York Circuit Webteam: 19/05/2017
Two roles- an administrator and a caretaker- are available at Lidgett Methodist Church- see the downloads for details. Completed applications should be sent to Revd Andy Lindley, 12 Vesper Drive, Acomb, York, YO24 3HT by 5pm on...
Rural Mission Enabler wanted!
York Circuit Webteam, published 9th Jun
Jobs at Lidgett Methodist Church
York Circuit Webteam, published 19th May
Bible Month Group Resources
York Circuit Webteam, published 10th May

Word file

Word file

Word file

Bible Month- FaithWorks
Today

Bible Month- FaithWorks
Tomorrow

Bible Month- FaithWorks
28th June 2017