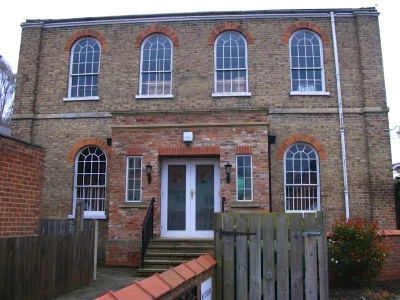 We have Hearing loop, ramps and large print Hymn books.
We also have fellowship from October to March second Tuesday in each month.
Easy free parking.

Our Chapel was built in 1828, some 75 years after John Wesley preached at Stamford Bridge. The building cost £586.00. In 1898 the Superintendent issued a worrying appeal for money: Stamford Bridge Chapel had fallen into decay. The floor had dry rot, the roof leaked, the walls were discoloured, the paintwork dirty and the stove and stove-pipes worn out!! The estimated cost was at least £50. The money was raised and the Chapel was closed for three weeks, during which the repairs were carried out.
On 3 November, 1908 the foundation stone was laid for the Schoolroom and Vestry and these were opened by Mrs Agar in 1909. The Schoolroom was flooded in March, 1947. In 1987 it became a Grade II listed building. The Schoolroom and Vestry were flooded again in 2000 and the Schoolroom flooring was replaced.
Despite all these setbacks, the Chapel remains an important part of the fabric of the village. The Schoolroom is a popular venue for meetings, Coffee Mornings, etc and we have a dedicated group of 'friends' who support us generously. With a building of this great age there is an on-going need for fund-raising for repairs as well as continuing with the charity giving which we do on a regular basis. To this end we invite you to drop in on our Coffee Mornings which are held on the third Saturday of the month from 10am to noon. Details of our Sunday worship are provided in The Link magazine. You will be very welcome.