All church services, events and meetings are currently not happening, and our buildings are closed until further notice. However, churches are still praying for the communities around them and finding new ways to worship and care for one another online and by phone.
You can read the full guidance at https://www.methodist.org.uk/about-us/coronavirus-guidance/
Check the page regularly for more updates.
Worship Resources
The Methodist Church has a list of worship resources for those use at this time.
This includes links to services which are being streamed online on Sundays, including from Wesley's Chapel in London.
Locally a variety of online resources are being produced, including:
Streamed Sunday Worship thanks to Lydia Harrison
Morning video reflections with Rory Dalgliesh
Elsewhere Roots on the web are currently offering worship at home resources for free, including activity sheets for families.
The Vine are offering local arrangement services that could be used at home.
If you have people in your congregation who are not able to access online resources, you may like to consider printing the "Worship from home service sheets" and, when this is safe, delivering these to people's letterboxes, perhaps with a card to remind people you are thinking of them.
You could also download the worship sheets and email them out to your congregation.
There are also worship broadcasts on TV and radio.
Caring for one another and our communities
Churches are also recommended to brief pastoral visitors and to check on those in their congregations who are vulnerable or alone, and to see what help they can offer. Guidance is available at the link above.
If you are looking for ways to offer practical help to those most in need, or help on how to talk to your neighbours, there are some suggestions here.
Other information:
UK Methodist website Coronavirus advice
Yorkshire North and East Methodist District website list of resources.
Other stories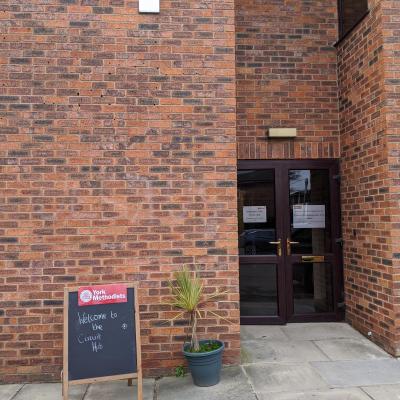 York Circuit Webteam: 07/02/2020
York Circuit has a new place to hold meetings, within walking distance of the centre of York. The new Circuit Hub at Melbourne Terrace Methodist Church is now open and we look forward to welcoming visitors.The Circuit Office...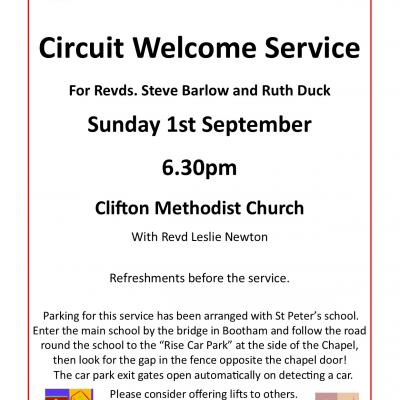 York Circuit Webteam: 21/08/2019
On Sunday 1st September the Circuit will be gathering at Clifton Methodist Church to welcome our new ministers this year, Revd Steve Barlow and Revd Ruth Duck. Steve will be working with churches in the south of the Circuit...
Covid-19 Guidance
York Circuit Webteam, published 26th Mar
Circuit Hub Open!
York Circuit Webteam, published 7th Feb
Welcome Service
York Circuit Webteam, published 21st Aug

Word file

Word file

Word file