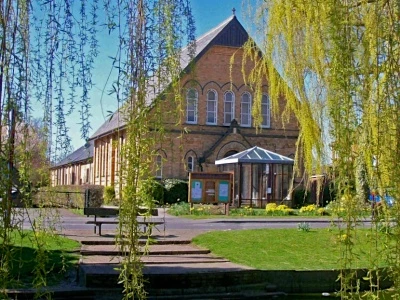 Haxby and Wigginton are two villages, just north of York, which merge to make a small town. The Methodist church is large and activewith a variety of modern and traditional worship services including a young church for children and teenagers. There is always something going on.
The Methodist Church serving Haxby & Wigginton seeks to be a beacon in the local community for faith in Christ, and love and service to all. Worship services take a variety of forms and we hope to provide opportunity for people of all ages and temperaments to meet with God in transforming worship.
Please see our website for lots more information.
The Aroma Coffee Shopin the middle of the Haxby shopping area was set up by Haxby & Wigginton Methodist Church in 2008 to provide a place in the heart of the community where people could come and meet and enjoy good quality food and drink as well as enjoying each other's company. The idea for Aroma grew out of a church vision of being a "beacon" in the local community. The aim is to show God's love for all in a number of ways and this has enabled Aroma to highlight events that are happening in the life of the church as well as in the community. Find out more here: www.aromaofhaxby.uk