Churches say 'Thank you' to retiring ministers
York Circuit Webteam

:

30th August 2016
METHODISTS turned out in force to say "Thank you" to three ministers retiring from service in the York Circuit.
Lidgett Methodist Church, in Acomb, was full for the York Circuit service on August 28 with its themes of "passing on the baton" and "new beginnings".
The occasion marked the retirement of Deacon Ian Cartwright who has been involved in the work of Lidgett Methodist Church, Acomb Methodist Church and Copmanthorpe Methodist Church for the past four years.
It also marked the retirement again of Deacon Cedric May and the Rev David Priestnall, who had both come out of retirement a year earlier to look after Trinity Methodist Church, in Monkgate, York, and Clifton Methodist Church.
Deacon Cartwright was praised for the way in which he had used his community work expertise to help churches see the needs of the communities they served and develop a strategy for the future. For example, there is now a thriving community café at Lidgett which has helped to take down boundaries between church and community. There was also praise from Lidgett Church Steward Jean Stubbington for his enthusiasm for retelling Bible stories.
All three men were thanked by York superintendent minister Leslie Newton and senior circuit steward Christine Stephenson for their contributions to the life of the circuit.
The preacher was the Rev Graham Carter who said Jesus demonstrated that there are no boundaries to God's love. For the Jews of his day that meant a major change in attitude to the Gentiles. The church through history had struggled with this thought.
Speaking as a member of the church at Lidgett, Rev Carter said Ian had helped them to see there is no such thing as "them and us".
Many thanks to Bob Lawrence for photo and text. Click on the photo to see all ministers being thanked.
Other stories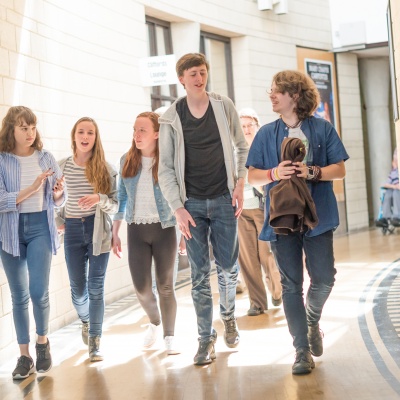 York Circuit Webteam: 19/11/2018
York Methodist Circuit are looking for someone to work with us as: Children & Families Worker20 hours per week.Starting salary £9, 992 per annum.Further details including Job Description, Person Specification and...
York Circuit Webteam: 18/05/2018
This year's Circuit Celebration will be taking place at Manor school on Saturday 14th July, from 2pm- 5.30pm. We'll be taking up the theme of Jonah from...