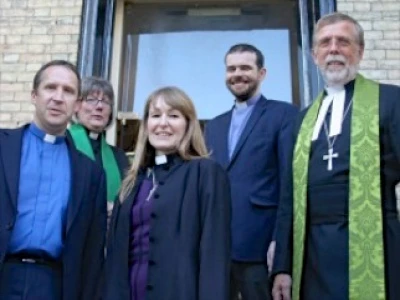 TWO new Methodist ministers were welcomed to York at a special service at Central on Saturday (August 30).
They included the Rev Leslie Newton who has moved from Bramhall in the Manchester and Stockport District to take on the role of superintendent minister of the York Circuit, comprising 37 churches across the York area. He will also have pastoral responsibility for the churches at Strensall and Thornton-le-Clay.
The other new minister is the Rev Julia Skitt who is a probationer minister with pastoral oversight of the churches at Copmanthorpe, Bishopthorpe and Acaster Malbis. She has come to York from training college.
Members of Leslie's former churches at Bramhall had travelled by coach to York for the welcome service, attended by the Lord Mayor of York, Coun Ian Gillies, the York Central MP, Hugh Bayley, and representatives of various other Christian denominations.
The service was led by the Rev Stephen Burgess, Chair of the York and Hull District of the Methodist Church, who formally welcomed the new ministers and their families.
The preacher was the Rev Helen Dixon Cameron, Co-Director of the Centre for Ministerial Formation at the Queen's Foundation for Ecumenical Theological Education, Birmingham. She grew up in Hull and for a time worshipped at Central Methodist Church and at Heworth Methodist Church in York until she candidated for the ministry in 1986.
She said being church was all about movement and relationships: "Jesus says in essence that in this journey together we have to trust each other, stay in relationship with each other; be bold and go on a journey together for I am with you. I will never leave you. I will never forsake you ... and I will bless you."
Julia thanked the congregation and in particular the stewards at her three churches for their welcome.
She said: "There is a lot for Christians to do in this age. Sometimes it feels more than we can possibly deal with and I have been encouraged and enthused by the potential I see here. I hope that together we can meet some of the challenges that we face in this very fast-changing world."
Leslie thanked all those who travelled over from Bramhall "to make sure I have really left".
He said he was ready to get on with a new chapter in his ministry and looked forward to doing his very best to fulfil the pledges made during the service.
He was thrilled to be joining with Christians in York in a vital mission which was not about managing decline, but rather a mission to proclaim that Jesus Christ is Lord of all.
"Let's travel forward together with unswerving confidence in our amazing and wonderful God – and I hope we have a few good laughs on the way."
Leslie's wife, Gillian, also a Methodist minister, will be commuting from York to Sheffield, where she has taken up an appointment as Chair of the Sheffield District.
The service included a celebration of the circuit's role in the York and Hull District Youth Participation Scheme. The Rev Andy Lindley told the congregation that seven young people on the scheme would be doing various things in local churches for a year, journeying with a mentor.
Katy will be running Messy Church at Lidgett Grove; Ellen will be helping to develop communications at Acomb, including development of the church website; Jess will focus on family worship at Haxby & Wigginton; Paul is hoping to communicate with teenagers in the area around Haxby & Wigginton; Ruth will co-ordinate a group called Prayercraft; Aileen will be using art as a form of outreach at Haxby & Wigginton; Sam, who was unable to be at the service, will be using art to develop a hall at Acomb for use as a secondary worship space.