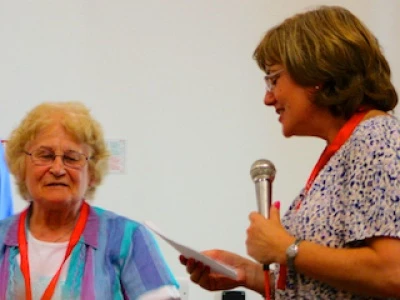 THERE was a note of celebration in the air at Joseph Rowntree School, New Earswick, on Saturday (July 12) when the York Circuit of the Methodist Church held its first AGM and party.
The York Circuit, comprising 36 churches, was formed two years ago with the merger of the old York North and York South circuits. Under new rules it is governed by a circuit council but now has to hold an AGM once a year which is open to all involved in the life of the churches.
This first AGM which received reports on the past year and looked at prospects for the future lasted 50 minutes and included the presentation of bouquets to Yvonne and Peter Alderson, retiring from their job-sharing role as senior circuit stewards, and Joan Oliver, another retiring circuit steward.
There was also applause for the Rev Philip Turner, who had steered the circuit through its first two years by taking on the role of superintendent minister, which he described as "an impossible task" when he also had pastoral oversight of the largest church in the circuit. He is stepping back from the superintendent's job to concentrate on pastoral work.
Sally Gall, taking on the role of senior circuit steward, said there were significant challenges facing the Methodist Church, both in York and nationally – a declining and aging membership and the fact that the Methodist Church has too many buildings.
Increasingly it was proving difficult to find enough candidates for presbyteral ministry and she said there was a need to "look outside our comfort zones".
This might sound a little threatening but it could also be seen as an opportunity to be united and invigorated. "New ideas and ways of working can bring rewards," she said.
Things in York were going to be exciting from the start of the new Connexional year with a welcome service for new presbyters on Saturday, August 30, at 6.00pm at Central. The new presbyters would be Leslie Newton, coming as superintendent, and also a highly commended probationer minister, Julia Skitt.
Urging people to make a point of being at this service, she said it will be a time of challenge and excitement for all of us.
At the same time the circuit was trying to support a number of new initiatives across.
Worship at the AGM, held in the school's lecture theatre was led by the Rev Ian Hill, from his keyboard.
The party in the school grounds included a barbecue, numerous information stalls, all-age football games, juggling, table tennis, Bat-the-Rat, a couple of challenges, and performances by the Golden Rail Brass Band.
Inside the school there were cream teas and a performance by children and adults from Lidgett Grove Methodist Church of songs from the musical, Joseph And The Technicolor Dream Coat, staged earlier in the year.
The party, which lasted 2½ hours, finished with community hymn-singing.